"painting your imagination with song.."
OCTOBER GOLD news:
August 30, 2019 - Excited to be in Maine this weekend for a few shows and a celebration! Nocturnem Draft Haus in Bangor tonight -delicious beers and music and a Happy Birthday to Aliza's mom, Tania! :) Bissell Brothers Brewing Three Rivers in Milo, Maine tomorrow night!!
June 23, 2019 - Had a great few days of music and Swedish traditions in New Sweden and Stockholm, Maine! Always a pleasure to connect with Aliza's Scandinavian roots, and of course eat lots of delicious homemade ice cream!
June 19, 2018 - Back in Maine for another performance at the Bangor Public Library's Summer Series. We are excited to premiere some new songs too! We'll be in New Sweden, Maine this weekend at the Midsommar festival!
June 24, 2018 - October Gold had an incredible weekend in New Sweden, Maine at the Midsommar festival! Aliza spent much of her childhood in this neck of the woods and loved going to the festival as a young girl; it was a pleasure to return and take part in the festivities together!
June 1, 2017 - Enjoying the incredible scenery and warm hospitality of Switzerland! House concerts are one of our favorite types of shows :)
April 19th, 2017 - Spring has sprung and we are back from a winter hiatus, planning some shows this summer in Europe and New England! Updates to follow!
March 6th, 2016 - We had a great time playing at The Acoustic Village in Knowlton, QC! Always a lovely evening of great food and music :) Here's Violet Fire, live at The Acoustic Village, and our cover of Whitehorse's cover of Blue Rodeo's 'Dark Angel' ;) 
November 16th, 2015 - We are very excited to announce the international release of our five-song EP!! http://octobergold.bandcamp.com/album/october-gold
Many thanks to Ben Ewing who did a wicked amazing job recording and mixing it (and producing it with us). And a big thank you to the McGill University studios for the fabulous halls to record in and top quality gear to use.
And of course, last but not least, thank you to the wonderful musicians who joined us on the album: 
Evan Stewart: bass 
Thomas Fortner: cello 
Erin Schwabe-Fry: french horn 
Will Bennett: percussion 
Ben Ewing: tambourine, shaker
August 24th, 2015 - Our new self-titled EP, October Gold, will be released on November 16th, 2015 :) Here is the pre-order link: http://octobergold.bandcamp.com/album/october-gold-ep
May 16th, 2015 - The new EP is sounding great, we are almost done mixing. Planning a release this summer.
March 18th, 2015 - Hello from Redpath Hall, long time no post! We are starting to record a new acoustic EP. Stay tuned for more news. Cheers!
September 13th, 2014 - After a busy summer of writing music, visiting family, and swimming in rivers as much possible, fall is officially here!! And with it, our first show of the season, tonight at 7pm at The Acoustic Village in Knowlton/Lac Brome, Quebec. More shows and updates to come.. 
June 23rd, 2014 - Happy first few days of summer everyone! We started some pre-production on a new acoustic EP. Looking forward to being in Maine next week to play a few shows (and jump in the ocean!!) :)
May 7th, 2014 - Heading to Toronto for Canadian Music Week to explore the city, and to see some good music as well as family and friends!
January 3rd, 2014 - Happy New Year!! We have been writing new songs and planning our next tour(s) and album :) There will be be some new videos up soon. Keep in touch!
September 15th 2013 - NewWebsite up!! And we are back in Montreal, writing songs for the next album... Keep in touch with us via tweets and FB (where we have lots of photos from the tour up.) We have also posted some live footage and other videos, you can watch from our video page or youtube. 
August 9th 2013 - 'Bridge of the Sun' Album Release Tour is well on it's way, continue to follow us on Facebook for pictures and updates! After exploring much of California, making our way up to Oregon, then back through CA and Arizona to New Mexico, we are headed to Colorado and then flying to Maine! What a trip!
 July 16th 2013  -   "BRIDGE OF THE SUN" is officially released TODAY!!

Get it here: https://itunes.apple.com/ca/album/bridge-of-the-sun/id660593872 
or here: http://octobergold.bandcamp.com/album/bridge-of-the-sun 
More tracks will be streaming in the upcoming days! :)
July 3rd 2013 -Excited and proud to announce the release of the first single from our upcoming album, the title track "Bridge of the Sun"!! Premiered here by Beats Per Minute , with a great review too, thank you :)
June 12th - We are stoked to announce the official release of our sophomore album, 'Bridge of the Sun' on July 16th 2013!!   Thank you to Taryn Kneteman for the beautiful album cover!! and another big thank you to Duncan R. Ferguson and Brandon Wells for making this album sound so good... (it does sound really good)  ;) And stay tuned for info about our Montreal release show with guest musicians from the album, including The Bombadils!
May 11th - After a busy few weeks of mixing and then mastering, we are happy and proud to say the new album is done!! A big thank you to our Duncan Ferguson and Brandon Wells for making it happen!! The next step is that we put it into the hands of our publicist, Team Clermont. The release date is set for July 16th 2013...
April 24th - Our IndieGogo campaign is almost complete, thank you to all of our contributors! We're also excited to announce that we are working with artist Taryn Kneteman for the album art!
Album Update #2 - March 31st -  It's mixing and mastering time! Still lots of work to do, so we've started pre-sales of the album to help raise funds for printing, PR, etc. Watch the video we made for our campaign with IndieGogo to see how much fun we've had recording, and to order your copy of 'Bridge of the Sun'!
Album update, February 21 2013 - We have 12 songs recorded, and have had some great sessions at McGill's MMR and StudioA and Pollack Hall with Duncan and Brandon recording guitar, violin, vocals, cello, french horn, drums, electric bass, piano... This weekend we will be in the cozy country Hutchins studio in Vermont with The Bombadils !! They bring with them their amazing talents on mandolin, fiddle, bass, guitar, banjo, and vocals (flute to be recorded later;)... So after this musical weekend, the album should be 90%+ done!!
February 12th - On tour, had a great show in NYC, @Googies above The Living Room. Walked around Central Park, went for amazing Indian food, and toured MoMA. In the early morning rain we travelled cross town to Milk studios for an interview at House Casting as a featured artist for the New Myspace!! :)
January 31st - Lots of good news this week!! We made our first CMJ top 200 chart appearance!! We started at #177 and still moving up :)  A big thanks to Team Clermont, and all the radio stations supporting our music!!
 
January 13th - Just found out 'Riverside' will be on the Millenium Conference compilation CD! Everyone at the festival (300 bands plus promoters, industry people, press, etc) will receive a copy! We'll be playing at the Suba tapas bar Saturday, Feb. 16th. Booking tour dates surrounding the festival :)
December 13th - We got selected to play at the Millenium Music Festival!! We will be travelling south to play at the festival in Harrisburg, PA in February 2013 - www.musicconference.net
October 28th - Recording and a couple of shows... As of last week we started working on two new albums: number one is our next studio album, and number two is a collection of live takes - just Kit and Aliza - that will be recorded over this winter at Montreal's famous Redpath Hall. Our schedule this week: we have a session scheduled for the studio album on Tuesday night, then a show Thursday night with The Bombadils at the Vieux Dublin in Montreal, then a show on Saturday night at Bagitos Cafe in Montpelier, Vermont, and then back to Montreal for a late night session of the live at Redpath album...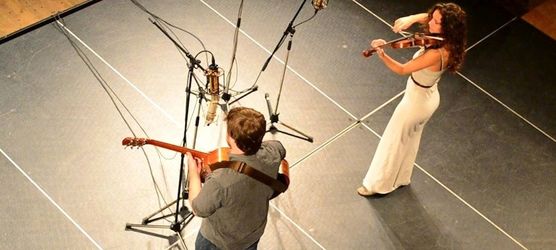 October 13th - Official Video for 'Being on the Road' - on youtube and our video page
October 2nd - 20 shows in 26 days in 9 countries - we can't believe it's over! After our last shows in Girona and Valencia, it's time for almost a week off in Spain! On the schedule are Malaga, Grenada, and Sevilla, and then we'll make our way back to Paris. Pictures coming soon, check out our VIDEOS page for vlogs of the tour!
_____
September 24th - Spent a week in Holland, played 5 memorable shows which culminated in a show at the Groninger Museum among paintings by the Group of Seven. Thank you to wishfulmusic.nl for making it all happen! Check out this video of us playing our song inspired by Tom Thompson's painting, 'The West Wind':
check out our videos at www.youtube.com/octobergoldmusic
EPK at www.sonicbids.com/octobergold
tweets at www.twitter.com/theoctobergold
contact us at info@octobergold.com 
Previous events
Bissell Brothers - Three Rivers
Bissell Brothers - Three Rivers, 157 ELM STREET, Milo, ME
October Gold plays Nocturnem
Nocturnem Draft Haus, Bangor, Maine
Midsommar Celebration
Midsommar, New Sweden, Maine
sign up for news and music