June 23rd, 2014 - Happy first few days of summer everyone! We started some pre-production on a new acoustic EP. Looking forward to being in Maine next week to play a few shows (and jump in the ocean!!) :)
May 7th, 2014 - Heading to Toronto for Canadian Music Week to explore the city, and to see some good music as well as family and friends!
January 3rd, 2014 - Happy New Year!! We have been writing new songs and planning our next tour(s) and album :) There will be be some new videos up soon. Keep in touch!
September 15th 2013 - NewWebsite up!! And we are back in Montreal, writing songs for the next album... Keep in touch with us via tweets and FB (where we have lots of photos from the tour up.) We have also posted some live footage and other videos, you can watch from our video page or youtube. 
August 9th 2013 - 'Bridge of the Sun' Album Release Tour is well on it's way, continue to follow us onFacebook for pictures and updates! After exploring much of California, making our way up to Oregon, then back through CA and Arizona to New Mexico, we are headed to Colorado and then flying to Maine! What a trip!
 July 16th 2013  -   "BRIDGE OF THE SUN" is officially released TODAY!!

Get it here: https://itunes.apple.com/ca/album/bridge-of-the-sun/id660593872 
or here: http://octobergold.bandcamp.com/album/bridge-of-the-sun 
More tracks will be streaming in the upcoming days! :)
July 3rd 2013 -Excited and proud to announce the release of the first single from our upcoming album, the title track "Bridge of the Sun"!! Premiered here by Beats Per Minute , with a great review too, thank you :)
June 12th - We are stoked to announce the official release of our sophomore album, 'Bridge of the Sun' on July 16th 2013!!   Thank you to Taryn Kneteman for the beautiful album cover!! and another big thank you to Duncan R. Ferguson and Brandon Wells for making this album sound so good... (it does sound really good)  ;) And stay tuned for info about our Montreal release show with guest musicians from the album, including The Bombadils!
May 11th - After a busy few weeks of mixing and then mastering, we are happy and proud to say the new album is done!! A big thank you to our Duncan Ferguson and Brandon Wells for making it happen!! The next step is that we put it into the hands of our publicist, Team Clermont. The release date is set for July 16th 2013...
April 24th - Our IndieGogo campaign is almost complete, thank you to all of our contributors! We're also excited to announce that we are working with artist Taryn Kneteman for the album art!
Album Update #2 - March 31st -  It's mixing and mastering time! Still lots of work to do, so we've started pre-sales of the album to help raise funds for printing, PR, etc. Watch the video we made for our campaign with IndieGogo to see how much fun we've had recording, and to order your copy of 'Bridge of the Sun'!
Album update, February 21 2013 - We have 12 songs recorded, and have had some great sessions at McGill's MMR and StudioA and Pollack Hall with Duncan and Brandon recording guitar, violin, vocals, cello, french horn, drums, electric bass, piano... This weekend we will be in the cozy country Hutchins studio in Vermont with The Bombadils !! They bring with them their amazing talents on mandolin, fiddle, bass, guitar, banjo, and vocals (flute to be recorded later;)... So after this musical weekend, the album should be 90%+ done!!
February 12th - On tour, had a great show in NYC, @Googies above The Living Room. Walked around Central Park, went for amazing Indian food, and toured MoMA. In the early morning rain we travelled cross town to Milk studios for an interview at House Casting as a featured artist for the New Myspace!! :)
January 31st - Lots of good news this week!! We made our first CMJ top 200 chart appearance!! We started at #177 and still moving up :)  A big thanks to Team Clermont, and all the radio stations supporting our music!!

January 13th - Just found out 'Riverside' will be on the Millenium Conference compilation CD! Everyone at the festival (300 bands plus promoters, industry people, press, etc) will receive a copy! We'll be playing at the Suba tapas bar Saturday, Feb. 16th. Booking tour dates surrounding the festival :)
December 13th - We got selected to play at the Millenium Music Festival!! We will be travelling south to play at the festival in Harrisburg, PA in February 2013 - www.musicconference.net
October 28th - Recording and a couple of shows... As of last week we started working on two new albums: number one is our next studio album, and number two is a collection of live takes - just Kit and Aliza - that will be recorded over this winter at Montreal's famous Redpath Hall. Our schedule this week: we have a session scheduled for the studio album on Tuesday night, then a show Thursday night with The Bombadils at the Vieux Dublin in Montreal, then a show on Saturday night at Bagitos Cafe in Montpelier, Vermont, and then back to Montreal for a late night session of the live at Redpath album...
October 13th - Official Video for 'Being on the Road' - on youtube and our video page
October 2nd - 20 shows in 26 days in 9 countries - we can't believe it's over! After our last shows in Girona and Valencia, it's time for almost a week off in Spain! On the schedule are Malaga, Grenada, and Sevilla, and then we'll make our way back to Paris. Pictures coming soon, check out our VIDEOSpage for vlogs of the tour!
_____
September 24th - Spent a week in Holland, played 5 memorable shows which culminated in a show at the Groninger Museum among paintings by the Group of Seven. Thank you to wishfulmusic.nl for making it all happen! Check out this video of us playing our song inspired by Tom Thompson's painting, 'The West Wind':
_____
September 14th - Back in Germany, playing two shows in Kiel (our longest stop in one place on this tour). Looking forward to our 5 shows in the Netherlands next week (our largest amount of shows in one country on this tour...;)
_____
September 12th - One week on the road, 5 shows down, just arriving in Sweden! About to post our first vlog. Check www.facebook.com/octobergoldmusic for lots of updates!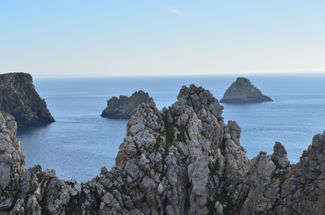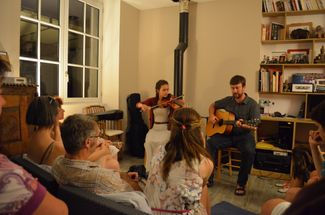 ______
September 4th 2012 - Just landed in Paris, let the tour begin! See where we're playing by clickinghere! And click on BLOG to follow us more closely! :)
______
August 30th 2012 - The CDs have arrived!!! So nice to finally have a physical copy in our hands, and they look fantastic! A big thanks to Emily Soden www.emilysoden.com for all her designing genius.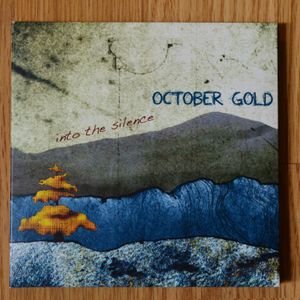 ______
August 20th 2012 - We will be leaving for our European tour September 3rd! So far we have about 20 shows lined up in 4 weeks of touring. Click on SHOWS for details!
 _____
August 18th 2012 - We've been at Tanglewood with Duncan for a few days finishing up the final mastering of the album, and just sent off the CD to be printed!! Can't wait to get them in the mail and send them off to all the folks who pre-ordered a copy!
_____
August 12th 2012 - We are headed to Maine soon for a week or so to play some shows and swim in the ocean! Especially excited for our show in Bangor, ME at Nocturnem Draft Haus!
_____
July 6th 2012 - 'Into the Silence' is almost finished!! Ready for mastering, coming out soon! And the album artwork looks incredible, thanks to the talented Emily Soden. Please check out her website! www.emilysoden.com
_____
June 1st 2012 - In order to raise money ahead of time for printing our CD, we are offering Pre-Orders of our new album, 'Into the Silence'! Go to www.indiegogo.com/kitandaliza for more info!
_____
May 2nd 2012 - In the final stages of mixing with Duncan! He has put in so many hours for us to get this album ready, with the help of Brandon Wells premixing.
_____
March 24th 2012 - Look for new tour dates coming soon... For East Coast Canada and US, and Western Europe. 
Working on a new video for the single "Being on the Road," here are some snapshots from the footage: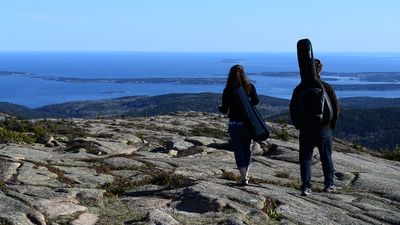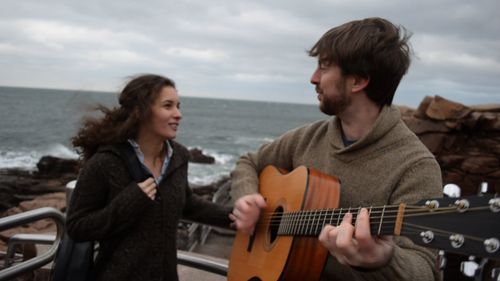 _____
February 16th 2012 - Album recording is going great, getting started on our mixes already. AND we have decided to go back to Europe in the Fall for a second tour! Hoping to go back to some familiar places and see some new ones too!
_____
December 10th 2011 - Although we originally thought we might be done with the album by now, we're now planning more recording over the winter months! Just couldn't help but add to the orchestration!!
_____
October 22nd 2011 - We've been busy these past couple months adding orchestration to our album, instruments recorded or planned include guitar, bass, drums, violin, cello, brass quintet, piano, harp, and hopefully church organ! Excited to be recording so many wonderful musicians!!
_____
September 8th 2011 - Recording bass with Mathieu, 3 days straight, bass all day!
_____
August 4th 2011 - We are already back to work recording our next album! Been busy recording vocals, guitar, and violin. Now recording drums with Chris and Duncan in an old farmhouse in Vermont.
_____
July 4th 2011 - We are back from our European tour! What an amazing experience. We played in so many incredible places and got to meet lots of friendly and talented folks. Check out our blog for a more detailed account of our trip! And thank you so much to everyone that helped us out along the way!
_____
May 18th 2011 - On tour now with Aliza Thibodeau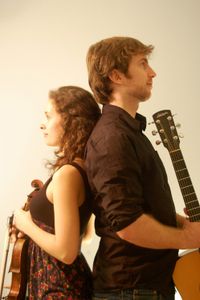 _____
a showcase with Kit and Aliza performing "Glass of Water"
produced by Here On Out
_____
an interview with Kit 
_____
"Like a Dancer Unstrung" is now available online! - itunes, bandcamp, etc... - and by mail-order through CD Baby.
_____
check out our videos at www.youtube.com/octobergoldmusic
EPK at www.sonicbids.com/octobergold
tweets at www.twitter.com/theoctobergold
contact us at info@octobergold.com 
Previous events
Bissell Brothers - Three Rivers
Bissell Brothers - Three Rivers, 157 ELM STREET, Milo, ME
October Gold plays Nocturnem
Nocturnem Draft Haus, Bangor, Maine
Midsommar Celebration
Midsommar, New Sweden, Maine
sign up for news and music