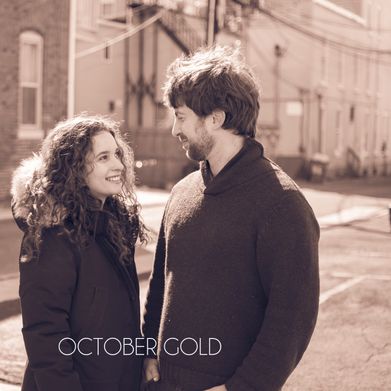 Press for 'October Gold' EP:
"October Gold follow their second album, Bridge of the Sun, with an eponymous EP. The Montreal duo of Kit Soden (acoustic guitar and voice) and Aliza Thibodeau (violin, piano and voice) have simplified things somewhat, adding only bass, cello, French horn and percussion but their sound is still big thanks to Aliza's multi-layered violin. Although they write their own material their lyrics are derived from the nineteenth century poetry of Archibald Lampman and Thomas Moore, both of whom can be seen in stained glass in Ottawa's public library. 
The songs are literary and complex and often melodically surprising - the last lines of 'Altitude' for example build from nowhere into an attention-grabbing climax.."

"The Canadian duo have successfully blended the poems of Archibald Lampman and Thomas Moore with their classical-tinged sparse folk arrangements.

Alt-folk duo October Gold is a collaboration between singer-songwriter Kit Soden and violinist Aliza Thibodeau. The Montreal-based couple blend elements of roots and classical music and have returned with a self-titled EP, the follow up to the 2013 album Bridge Of The Sun. 

Limiting themselves to only five songs works in the band's favour, giving the tracks an overall arc which might drag over a longer running time. The lyrics are reworkings of poems by Archibald Lampman and Thomas Moore and add an expressive hue that jumps out from the modest shades of the musical arrangements. From the opening strings of At The Mid Hour Of Night, you are drawn into October Gold's world, a land of imagery and soft splendour. 

For some, the poetic nature might prove something of a barrier. Take the words of Altitude, lifted directly from Lampman's Outlook, "Though strife, ill fortune, and harsh human need / Beat down the soul, at moments blind and dumb with agony." Impenetrably esoteric or gracefully revealing, each view holds some merit. What is certain though is that they lend these songs a rare quality that is unlike anything else you're likely to hear in modern folk.

Verdict: Understated and poetic folk"

- Duncan Haskell, Songwriting Magazine 



"Montreal duo October Gold, continue to tip-toe on the acoustic side of pop in their new self-titled EP. Having gently graced stages across North America and Europe in recent years, the pair are slowly becoming known for their modest arrangements and the natural chemistry they hold. Partners in marriage, and in music, songwriter Kit Soden and violinist Aliza Thibodeau have the ability to embrace the widely adored folk/pop combination while borrowing orchestral arrangements from the classical training of Thibodeau. The five track EP ties in influences heard in their 2010 album Into the Silence and their 2013 concept-album Bridge of the Sun. Together these influences create a product which grasps at the importance of poetry, folk roots and emotion.

The laid back opener, At the Mid Hour of Night, paints a charming scene in which listeners will be easily drawn. With sweet lyrics such as 'while stars are weeping I fly' and 'when light shone warm in your eyes', it is pleasing to know that it is to each other they sing. And if one can get over Soden's fondness of beginning every vowel with an 'h', the track is lyrically contenting. The more powerful Violet Fire plays next and taps into Thibodeau's classical past with chilling string arrangements. The tracks are unfortunately on the monotonous side and at first listening it is easy to mistake the EP for one 18 minute piece. However, upon further listening the details of each track begin to abscond through. It is from deep within their stories that distinctions can be drawn, Soft like Gold perhaps being the front-runner.

October Gold certainly indulge in the small scale, providing songs and arrangements that could be heard in rooms on both sides of the Atlantic. Arguably the tracks are under-arranged, however, this lends a 'session' quality to the EP, perhaps intentionally. The lack of complication is charming and it follows that little thought is required by the listener to absorb the record. Simplicity is key here and the playing of Soden and Thibodeau is effortless and they complement each other well. Although in danger of being lost in amongst others who surrender to the sweet tones of folk, October Gold should be commemorated for the honesty in their music and the fragile approach taken when blending styles. While the EP is certainly a model for 'small things come in good packages', it is only a snapshot of their capabilities."
- Kim Carnie, FolkRadio UK



"This duo is based in Montreal and creates beautiful soundscapes which have been described as "painting your imagination with song."

Singer-songwriter/guitarist Kit Soden is joined by violinist/ pianist, Aliza Thibodeau and the mixture of folk and classical sensibilities merge to create a very pleasant listening experience.

This self-produced EP follows on from two previous full releases, Into the Silence and Bridge of the Sun, and the 5 tracks are performed with the assistance of Evan Stewart on Bass, Thomas Fortner on cello, Erin Schwabe-Fry on french horn, Will Bennet on percussion and Ben Ewing on shakers and tambourine.

The playing is gentle and understated with a mid-tempo pace that does not challenge the listener but rather sets a mood of quiet contemplation. The lyrics are based on poems by Thomas Moore (1779-1852) and Archibald Lampman (1861-1899). This works unexpectedly well with the words complimenting the fluid arrangements with a pastoral air of erudite musings on love's great mystery." 

- Paul Mcgee, Lonesome Highway 


"This EP sees the instrumental and vocal talents of Kit Soden and Aliza Thibodeau augmented with bass, cello, French horn and percussion. The ensemble blends perfectly with the violin and guitar that form the core of the Montreal based duo's sound. Among the musicians are some who appeared on the duo's 2013 album 'Bridge of the Sun', a work that boasted multiple cellos, horns, trumpets, fiddles and a hoard of percussionists. Paring the accompaniment down for this project seems to have paid off and the end result lifts the vocals which is key when the lyrical content showcases the works of Thomas Moore and Archibald Lampman, often referred to as Ireland's answer to Robert Burns and Canada's own Keats respectively.

Soden's warm and gentle voice is a fine medium for these often beautiful lyrics. Thibodeau matches this sweet quality and her breathy violin playing sometimes suggests another delicate and very human voice. This is perhaps most evident on the opening track of the album where the violin sings out over a rich low cello line as the guitar keeps a steady pulse with a glittering fingerstyle accompaniment.

Violet Fire, the second track on the album steps up the complexity of the arrangement, moving from the dreamy singing melodies of the opening piece to full string arrangements and the golden tone of the French horn. The strings outline beautiful chords in great swells of sound, at first punctuating the track and then building to a wonderfully layered instrumental in which the different voices dance around each other pushed forward by the rhythmic guitar.

The strings and horn have been captured with amazing clarity and convey the original performances of the musicians remarkably well. In 'Soft Like Gold' these instruments combine to feel almost as expansive as a full orchestra, with soaring horn and the wiry melancholy lament of the cello filling a huge sound space.

The closing track highlights the wonderful fingerstyle guitar playing although it soon gives way and returns to supporting the violin and vocals. With such great technique it would be a treat to hear more of the guitar and let it outshine the string writing and break through the texture more often."

- Lee Cuff, FATEA Records




Press for 'Bridge of the Sun' 2013:
"Video Premiere: October Gold - "Old Stones"
Husband and wife folk-pop duo October Gold spin dense acoustic-minded tales involving characters who have a need and an affinity for a more pastoral way of life–mirroring, I would imagine, the group's own personal beliefs. The graceful, bucolic ease with which singer/songwriter Kit Soden and violinist Aliza Thibodeau approach their songs feels inviting and communal in a way that is often missing from their alt-folk brethren. Inclusive without seeming to pander, and earnest without pointlessly strumming their listener's heartstrings, Soden and Thibodeau allow their music to unfurl naturally, never forcing notes where they don't belong and allowing the songs to exist without any overt outside interference. Their latest album, Bridge of the Sun, folds tightly-knit folk rhythms with lyrics drawn from author Steven Erikson's best-selling series, The Malazon Book of the Fallen. 
For the video to Bridge-cut "Old Stones," the band explores a more literal interpretation of the lyrics. Interspersed with scenes of Soden and Thibodeau performing in a gorgeous studio atmosphere, there are quick images and clips of visits to graveyards, cathedrals, and stone-covered streets. These scenes of rustic beauty pair perfectly with the spry acoustic fretwork and striking, though somewhat somber, melodies of Thibodeau's violin. The rhythmic complexity of the track, composed with the casual ease of people who know each other's musical proclivities inside and out, never feels showy or ostentatious but permits the vocal harmonies and instrumental interchange between them to stay center-stage. 
Beats Per Minute is pleased to premiere October Gold's video for "Old Stones," taken from their recently released album Bridge of the Sun." 
-Joshua Pickard
 
"Track Premiere: October Gold - "Bridge of the Sun"
Montreal duo October Gold is a collaboration between singer/songwriter Kit Soden and his wife, violinist Aliza Thibodeau. Their breezy, often dense alt-folk rhythms seem to be nestled somewhere between the acoustic intimacy of Bowerbirds and the indie bombast of Arcade Fire. On their 2010 debut album Into the Silence, they brought together over 20 different backing musicians to achieve a grand, cathedral sound to pair with the calmer, more introspective moments. They've kept this sense of tonal contrast for their sophomore record Bridge of the Sun, bringing along the words of author Steven Erikson as well. Most of the album's lyrics are derived from Erikson's best-selling series, "The Malazon Book of the Fallen."
The duo have just released the latest single, "Bridge of the Sun," from their upcoming album, and with its' waves of acoustic instrumentation and serpentine rhythms, Soden and Thibodeau have fully integrated her classical training with his folk upbringing. By allowing each other's influences to interweave and bloom outward, "Bridge of the Sun" feels less like the forced coupling of personal preferences and more the unified statement of a band fully immersed in their own insular musical world.
Beats Per Minute is pleased to premiere the title track, "Bridge of the Sun," from October Gold's latest record."
- Joshua Pickard
"Track Premiere: October Gold - "Song of the Last Prayer" 
Montreal acoustic alt-folk duo, October Gold are releasing their new album, Bridge of the Sun today. Surviving the Golden Age has the privilege of premiering the album's latest single, "Song Of The Last Prayer." The track features acoustic guitar and violin but it has a little more of a dark Balkan vibe than a Mumford and Sons song. It reminds me of something between Destroyer and The French. "
 
-Adam Morgan
"Bridge of the Sun by October Gold - the Music of Malazan
October Gold is an alt-folk duo out of Canada that seems to be gaining in popularity and recognition around the world. Now, I'm basically a book blogger and I'm even less 'qualified' to be commenting on music than books. But October Gold has the distinction of getting much of their inspiration from Steven Erikson's Malazan Book of the Fallen series (my review), of which I am a big fan. All of the lyrics from their new album are taken directly from poems and even excerpts of the series, primarily from the last two books. 
So when I was contacted by Kit of October Gold about taking a listen to their new album (apparently at Steven Erikson's suggestion), I was eager to give it a go. In short, I really enjoyed it. Erikson's Malazan series does a lot, but at it's heart it is an exploration of humanity, particularly tragedy and hopelessness, though ultimately hope for the future does win out. The songs that October Gold have put together using Erikson's writing capture the powerful humanity of the Malazan series, and make for some really great music. 
I'm certainly not a music critic, but I can't write this post without saying at least a few things that are more specific and related to my personal taste (I have no reference point for commenting on actual musical talent and composition beyond personal taste). The CD begins with "Song of the Last Prayer" which to me sounds like it's straight out of an episode of Firefly - to me this is a very good thing. And while I'd have probably been quite happy with a CD devoted to such a style, the next few songs pleasantly proved that October Gold has a wide range of styles they use to explore their music through. My favorites are probably "Song of the Last Prayer", "Dust of Dreams", "Gallan's Hope", and "Where Ravens Perch". And I simply must say, that I couldn't help but wish at times that the lead singer's voice was about 2 octaves lower because I think a Leonard Cohen-like musical narration and arrangement of these songs could be just about the coolest thing ever. But that says more about my own eclectic tastes than anything else. 
So, fans of music and Malazan will want to check this out. And while I think anyone without knowledge of Malazan can enjoy this music a lot (after all, the themes are universal), I think Malazan fans are in for a special treat. 
Below I have few samples of the music and info about October Gold that I was able to get my hands on. So, sample, enjoy and go get some great music if you like it. "
-Neth Space
"Fusing the hieratic poetry of Steven Erikson with orchestral-pop sweep and glide, the Montreal duo of Kit Soden and Aliza Thibodeau, aka October Gold, traverse light and dark on "Bridge of the Sun."
-KDHX

Press for 'Into the Silence':
 This is a truly beautiful and distinctive album. October Gold - described as an acoustic 'indie-folk duo' and based around the haunting musicianship of Kit Soden (voice and guitar)and Aliza Thibodeau (voice & violin), this album embraces many musical, poetic and graphic talents. Whether it's the drums or harp, the church organ or the mandolin, every contribution is carefully judged to make its point in the musical and poetic texture. Combining classical elements as well as folk, indie and a good helping of nostalgia - and not forgetting the remarkable mixing, recording production and artwork -'Into the Silence' is a delightful and carefully constructed antidote to the hectic excesses of modern living.
- Tim Stuart, Amazon review, September 30th, 2012
October Gold – Into The Silence (Alderbrooke Records)
 Montreal based October Gold is the pairing of Kit Soden and Aliza Thibodeau, though they've expanded their line-up somewhat for "Into The Silence". The album was originally envisaged as a full-band project and eventually over 20 different instruments were used in the final mix, including a church organ, a harp and a brass quintet. It's to their credit that all that extra oomph does nothing to distract attention from the main performances, and the collection retains a warm, intimate appeal.
Both Soden and Thibodeau sing, and their vocals in harmony are practically the first thing we hear on the album. Its source track, the intricate, beautifully arranged "Riverside" is almost reason enough to invest in their joint musical vision. Their self-confessed influences are nearly all contemporary, but on this first track at least, there's something of the joie de vie of those early Simon and Garfunkel sides at play. Things immediately get more serious on "Snow Ghosts". Thibodeau's violin melody is intense and somber, but ever so lovely, and "The Well" is magnificently dark, with a moody gypsy-noir flourish. Perhaps they're at their most compelling on the grandiose title track; epic folk-rock, defined in six and a half minutes.
- Rob F., Leicester Bangs, October 7th 2012
_ _ _ _ _ _ _ _ _ _ _ 
 
Press for 'Like a Dancer Unstrung':

Take it to the Bridgeburner- Kit Soden fuses his folk music to a fantasy luminary's words
STRINGS AND SORCERY: Aliza Thibodeau and Kit Soden
Montrealer Kit Soden's musical endeavours cover a lot of ground. "From classical to modern art-music to folk," he says. "I take what I experience and work at interpreting it musically. As a songwriter, the lyrics inspire my compositions. I tend to fuse styles, using the necessary colours of the musical, orchestral and timbral palettes to bring the words to life." A particularly interesting fusion is that of Soden's music and voice with the words of Canadian-born fantasy author Steven Erickson, a superstar in the field of swords and sorcery thanks to his rich and challenging epic series of novels, the Malazan Book of the Fallen. "My sister Emily introduced me to [the series]," Soden recalls. "I was amazed at his imagination. The scope of his storytelling is huge. His poems, at the beginning of some chapters, are always so descriptive. They seemed like they were already songs. "It did not dawn on me to write a song with his poetry until mid-way through the seventh book. Without giving away part of the story here, it was a powerful moment, and it inspired me to write 'Lay of the Bridgeburners,' my first song interpretation of his poems, in November 2007."
This didn't go unnoticed by Erickson himself, whose fans' user-forum comments led him to Soden on YouTube. "It turned out we both were trying to contact each other. We got in touch in May 2009, and he sent me some unpublished poetry to add to the Malazan poems I was already working with. From that point, I recorded demos and sent them to him, until I had a full album's worth of material."
That album is the recently released Like a Dancer Unstrung, which he'll be touring through Europe in the spring with his partner, violinist Aliza Thibodeau (McGill-based roots unit the Bombadils also play on the record—"A great live band," says Soden, "as well as a professional studio group"). At the same time, Soden has another full album of work with Erickson that's soon to be recorded.
"He gives me a lot of creative freedom in my interpretations of his words. He also is appreciative of my edits, in terms of turning his poetry into lyrics."
- Rupert Bottenburg, Montreal Mirror, February 7th, 2011
Previous events
Bissell Brothers - Three Rivers
Bissell Brothers - Three Rivers, 157 ELM STREET, Milo, ME
October Gold plays Nocturnem
Nocturnem Draft Haus, Bangor, Maine
Midsommar Celebration
Midsommar, New Sweden, Maine
sign up for news and music